With the death of controversial Washington Post editor Ben Bradlee, we at Accuracy in Media (AIM) recalled the long-running conflict between the late AIM founder Reed Irvine, and Bradlee, who complained that a lot of the fun had gone out of journalism during the Reagan years because "there are so many of these asshole watchdog groups now."
According to The Weekly Standard's Andrew Ferguson, Bradlee "was referring to AIM, a conservative practitioner of the kind of ideological press criticism that is now a common feature of the media world," and Bradlee felt that he was the real watchdog, "and the watchdog didn't need any watchdogs watching it."
We can only imagine where they are now, but perhaps Irvine and Bradlee have resumed their old conflict over accuracy in the media.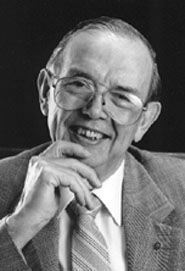 Here is Ferguson's article in The Weekly Standard, If You Knew Ben Like I Knew Ben. The last five paragraphs of the article focused on the relationship, as it were, between the two titans:
Bradlee was complaining that a lot of the fun had gone out of journalism during the Reagan years. The reason, he said, was that 'there are so many of these asshole watchdog groups now.'

He was referring in particular to Accuracy in Media, or AIM, a conservative practitioner of the kind of ideological press criticism that is now a common feature of the media world, so greatly enlarged by cable TV and the Internet. These parvenus were crowding his territory, barbarians trying to breach the gates. He and his friends were the watchdogs, goddammit, and the watchdog didn't need any watchdogs watching it.

But the new order allowed the watchdogs and other buttinskis an audience as large as his own paper's. It made Bradlee churlish. AIM was founded by an earnest man named Reed Irvine, a sweet, slightly buffoonish drudge whose suit always seemed a size and a half too large and whose pinched appearance made him easily mocked, especially by men whose own suits were bespoke. Irvine's great mission in life was to expose the pretenses to fairness and disinterestedness of a monolithic press—to 'tell it like it was,' to borrow a phrase from the Post's piece. He was a genuine subversive, nipping at the heels of an establishment that in its vanity considered itself 'antiestablishment.'

Publicly, Bradlee called Irvine a 'retromingent.' The word describes a kind of animal, one that urinates backward. The insult was funny and revealing in its casual cruelty.

These days their battle—asymmetric as it was—seems so long ago, a dispute from a vanished era. The tributes to Bradlee from his protégés had the same quality, voices assuming the authority of an order that is passing, that has passed away. Now that both men are dead, I hope it's some consolation to the shade of Reed Irvine to know that, in the effort to dismantle and discredit a corrupt regime, he won and Bradlee lost.
---