Continuing a decade-long trend, newspaper circulation continued to decline and is now at its lowest level since 1940, according to the Pew Research Center's latest State of the Media report.
Total daily newspaper circulation (print and digital combined) was an estimated 28.6 million for weekday and 30.8 million for Sunday in 2018. Those numbers were down 8 percent and 9 percent, respectively, from the previous year, according to the Center's analysis of Alliance for Audited Media data.
Both figures are now below their lowest recorded levels, though weekday circulation first passed this threshold in 2013.
Digital circulation, which is harder to track, rose last year, but not enough offset the overall decline in circulation.
While revenue from circulation remained steady in 2018, ad revenue fell 13 percent, based on the Center's analysis of Securities and Exchange Commission filings. This is only for newspapers that are publicly held or have issued publicly held debt that requires filing with the SEC.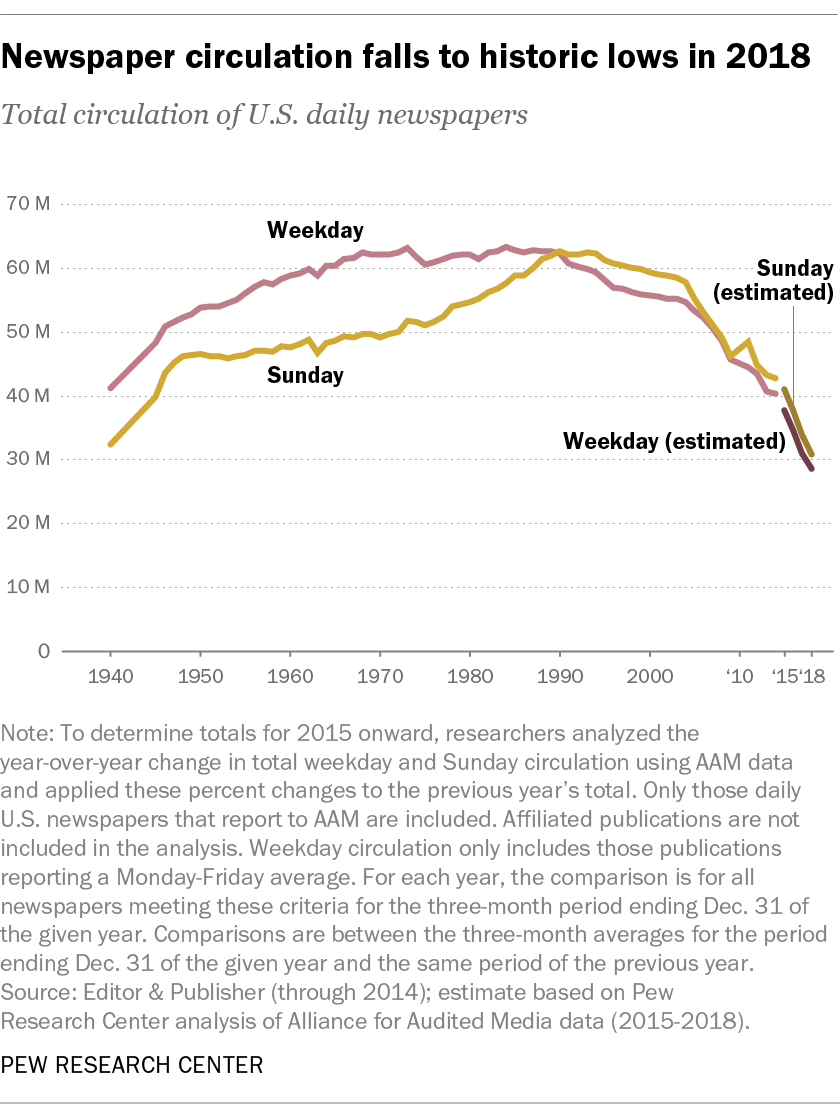 The growth in digital ad revenue but a majority of it is garnered by Facebook and Google and not publishers.  Just over one-third (35 percent) of digital ad revenue goes to newspapers, but isn't enough to overcome the decline in print ad revenue since digital ads cost far less than print ads.
The good news for the news media is that cable news revenues led by Fox News rose 4% in 2018 according to Kagan, a media research group.
Since 2015, cable news revenue is up 36 percent and ad revenue has grown by 58 percent and rising steadily since 2016 — even in non-election years, which have traditionally experienced a drop-off. This is probably largely attributable to the election of Donald Trump who has dominated the news cycle since he entered the presidential race. While revenue is up, employment is flat.
These trends — along with the decline of local news audiences — are likely to continue with increased usage of mobile devices and social media by Americans to obtain their news.
---